Photo Gallery
Connecting Music Teachers & Students on the Gulf Coast

44th Annual Sonata Contest - February 2, 2013
Honors Recital 2012 - Sunday, March 25th at the
University of Mobile's Moorer Hall.
There were 23 students representing 13 teachers from
the Mobile area. Each student received a medal for
their participation.
Kick-Off meeting August 20, 2013, at Andy's Music
2014 Sonata Contest - February 1, 2014
2015 Sonata Contest - January 31, 2015
Junior Division
Top row:
Anhthy Trish Tranle.
4th row:
Left-Laura Anne Ling. Right-
Callie
Dexter.
3rd row:
Left - Caroline Outlaw. Right-
Mary Helene Marmande
2nd row:
Left- Anna Ruth Lane. Right- Meghan
Luttrell.
1st row:
Left- Abby Ferlise. Right-
Faylin Stagner.
Senior Division
Top row:
Zachary Vincent.
5th row:
Left- Sarah Poirier, Right-
Jake Lewis.
4th row:
Left - Lucy Zhu. Right-
Elizabeth Bankester.
3rd row:
Left- Joussette Alvarado.
Right- Nathan Vincent.
2nd row:
Left- Kiana Shula, Right-
Anhthu Sarah Tranle.
1st row :
Allan Zhu.
Honor's Recital
Saturday, March 15, 2015
2015 Piano Virtuoso Competition - November 7, 2015
2016 Sonata Contest - January 30, 2016
Front Row Left to Right:
Jerrick Phan, Anthony Xing, Catherine Chung,
TuAnh Cao, Kendall Maull, Nathan Wallace, Ella
Frances Scott, Elizabeth Chen, Lilly Grace
MacKinnon, Luke Bobinger
Middle Row Left to Right:
Andrew Erdman, Abrielle Le, Anna Brooke Haskew,
Hannah Lee, Maci Higgins, Bethany Davis, William
Xi, Adhvika Mahadevan, CJ Bockhold
Back Row Left to Right:
Kyndall Ransom, Hayley Shaul, Carson Ramsey,
Ben Cockrell, Emma Holm, Devin Van Cleave,
Gabriella Loiacaho
2016 Sonata Contest Winners
2016 Honors Recital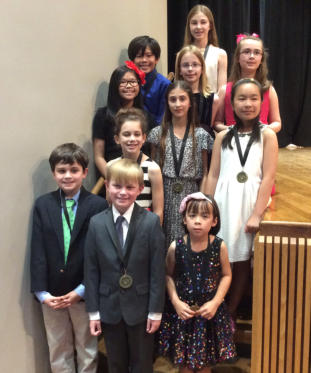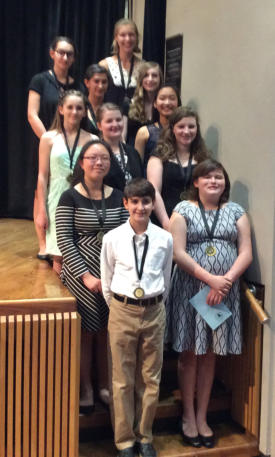 2017 Honor's Recital
3/26/17
Senior Division
Front row.
Martin Pahs. Right, Elizabeth Hardy.
Second row,
Yuki Ou, Ashley Jenkins.
Third row.
Faylin Stagner. Jaycee Scott,
Mattelyn Neighbors.
Fourth row.
Catherine Pahs. Julia Fink.
Top row.
Elizabeth Pahs. Rachel Smith.

2019 Honor's Recital
First line from the right
Eva Brining, Leo Balmori, Christian
Myers, Gracie Mills, Isabella Hsu,
Arabella Rowland.
Mid row:
Amelia Hanna, John Phillips Kujala,
Sam Hecker, Emma Mamande,
Emma Hsiao, Ella Dean, Anna Claire
Elliott, Will Cunningham
3rd row:
Abby Ferlise, Katelin Sengvixay,
TuAnh Cao, Abrille Le, Sarah Webster,
Albert Le.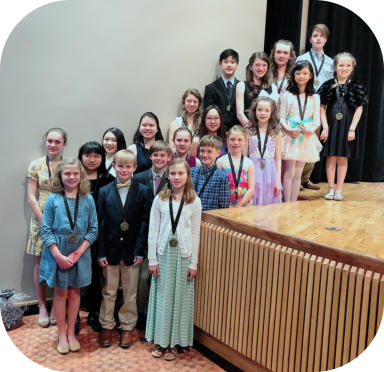 2018 Honors Recital
The 2018 Honors Recital was held on April the
15th at the University of Mobile.
From left to right front row:
Anthony Xing. Gracie Mills. Stacy Ross. Lilly
Cunnmgham Colin Chandler. Sophia Falkenberry.
Blake Smith. Katie Smith. Jessica Peterson
Second row:
Noah Clark. Brandon Ladner. Sarah Webster. Lexie
Smith. Sam Sisk. Hanna Bobinger
2021 Honor's Recital
Sunday, April 18, 2021 at 3 pm.
University of Mobile. Moorer Hall
Front row left to right:
Everleigh Garden, Sabine Downing, Jack Sconyers,
Ellie Ginger, Caroline Everhart, Emie Deas,
Samantha Li, Isabella Hsu, Parker Kern, Daniel
Kim, Henry Hewitt.
2nd row on the stage, left to right:
Sam Hecker, Kate Ginger, Sophia Haines, Jake
Andrews, Lily Grace MacKinnon, Katie Smith,
Stephanie Ladner, Ethan Kueck, Maggie Ferguson,
Elijah Krob.

Honors recital - March 24, 2013, Moorer Hall,
University of Mobile.